I Only Had Two or Robin and the Chocolates
The uniform of the National Music Camp was a great equalizer. We never knew who were the rich kids and who had worked all year to be able to come to camp for the eight weeks in the summer. One boy was Danny Kaye's godson, another boy's parents owned a golf course around Toronto. Yet another boy's father worked in a grocery story and the father of another owned a high-class delicatessen. One girl's father was a lawyer, etc. etc.

After we had seen the plays at Stratford we went to see Danny Kaye as the headliner at The Exhibition. The boy whose parents owned the golf course said they would have a nice place for us to stay and made arrangements for us to park our trailer on the golf course. When we got there, it was clear that the family was somewhat embarrassed to have a low-class transient in the view of the affluent players on his course, so he put us out beyond the 18th hole in a barren, gravelly stretch of ground--no trees for shade, no toilet facilities, and no running water. The club house was a good quarter of a mile away. The young man's parents never came near us. We were, however, invited to a cocktail party at which there was the most outstanding string quartet in Toronto which had been hired for incidental music. Lucky, as usual, rose to the occasion and made up a play for the kids "Two miles from the sun and three miles from the moon" about Miss Lo-la-lee-lou and her daughter Little Miss Lo-la-lee-lou who were looking for a tail and some good things to eat. John played the man in the moon. It was HOT, we were dirty, and after three days of no showers the natural humanity was beginning to manifest itself. Lucy Chase was hurt, ashamed and angry at our treatment. One of our other students (whose parents owned a couple of supermarkets) invited us to visit. (Their son had played the best King Claudius I ever saw in HAMLET the year before). We went to their house and our reception by the Weinstein's was so warm that Lucy Chase burst into tears and told Mrs. Weinstein of our treatment. Mrs. Weinstein was all compassion--had us take hot showers, gave us a pick-up lunch, and for desert some chocolates from a dish in the father's study. So gracious. As usual, Lucy Chase told the kids they could each have two of the chocolates. We left Toronto the next day and stopped by to thank these lovely people for their kindness. When we left, we had gone a few miles and Lucy Chase asked Peggy, Robin's "Nanny" if Robin was asleep. Peggy said, "Robin's not here." Lucy Chase said, "I do not like that kind of joke." "No, she really isn't here." We realized she had gone in with us to thank the Weinstein's, and were horrified that we had left her. We turned around and went back, feeling very foolish. Mrs. Weinstein came to the door and Lucy Chase asked if Robin had been left behind. "I don't think so...let's look." We did. There was Little Miss Lo-la-lee-lou in the middle of the study floor, her face and hands covered with melted chocolate. She looked up brightly and smiled, and said, "I only had two!"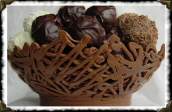 © Jim Bob Stephenson 1992 with additional detail written in 2008